wholesale EN11611 high quality bulletproof firefighting suit used for industry
2018-04-18 16:41 | writer: admin
wholesale EN11611 high quality bulletproof firefighting suit used for industry
we have our owm garment factory, next is a nomex firefighting suit picture: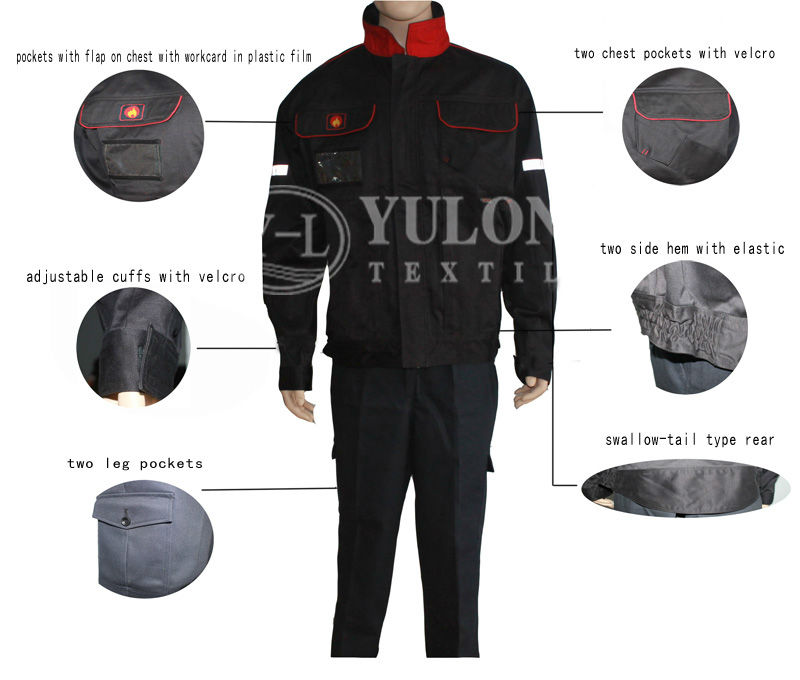 nomex firefighting suit
detailed information about nomex firefighting suit:
Fabric: nomex fire retardant uniform fabric
Application: Electric power industry, oil field, natural gas, oil refineries, chemical and other electric arc splash and fire hazard exists.
Features: flame retardant, anti static, arc proof, molten drop protection.
Standards: EN ISO 11611,EN ISO11612,EN14116,BS EN61482,ASTM D6413,NFPA2112
The features of pattern:
- This dress design is novel and chic, humane concept.
- Rectangle collar, stand or flip over, and lining of it uses red color fabric, when the collar stands up, the red lining echoes with the panel strip of clothing, fashion and chic.
- Shoulders, back and pocket flap use red color fabric as panel strip.
- Two chest pockets with Velcro button flap, and the right one has plastic film work card position on it.
- Oblique type tool pocket is on the left chest pocket, looks very chic.
- Two high-capacity slant pockets on the waist.
- One circle 360o reflective tapes on the two sleeves
- Adjustable cuff with Velcro button, more convenient.
- Front closure with brass zipper and Velcro button.
- Two side hem with elastic, swallow-tail type rear.
- Use match color FR thread double sewing line, reinforced stitching at stress points for extra durability.
Standard size: as your requirement.
color card of nomex firefighting suit fabric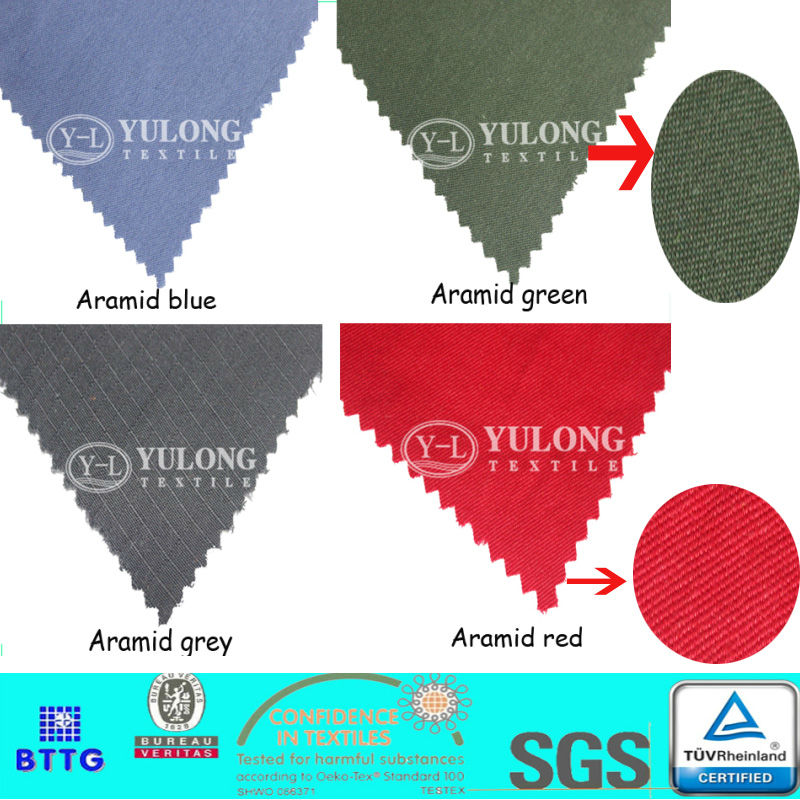 Our nomex firefighting suit fabric:
1, permanent heat-resistant flame-retardant, limit oxygen index of the Loi is greater than 28
2, permanent antistatic property
3, permanent resistance to erosion of alkali and organic solvent
4, high strength, high wear resistance, high tear resistance
5, meet fire generating drop, do not produce poisonous gas
6 the burnt cloth, cloth cover thickening, enhance sealing, not broken
our products have passed the standard EN11612, EN11611, Oeko-Tex 100, REACH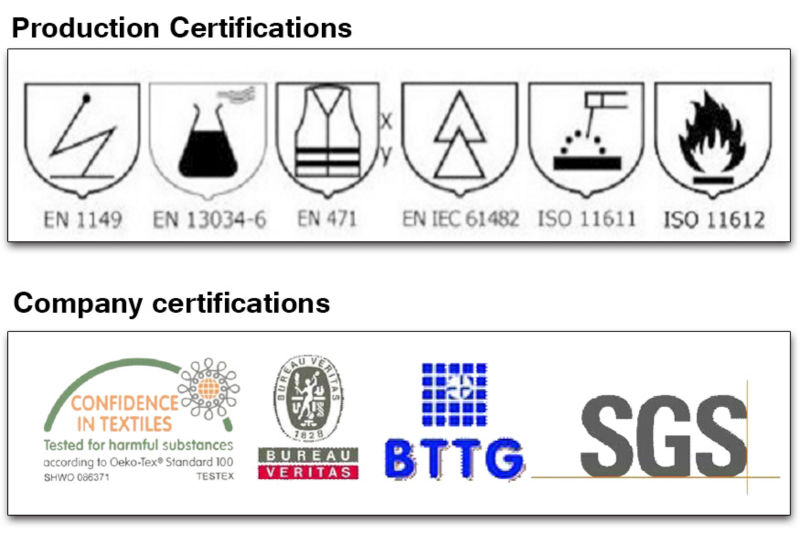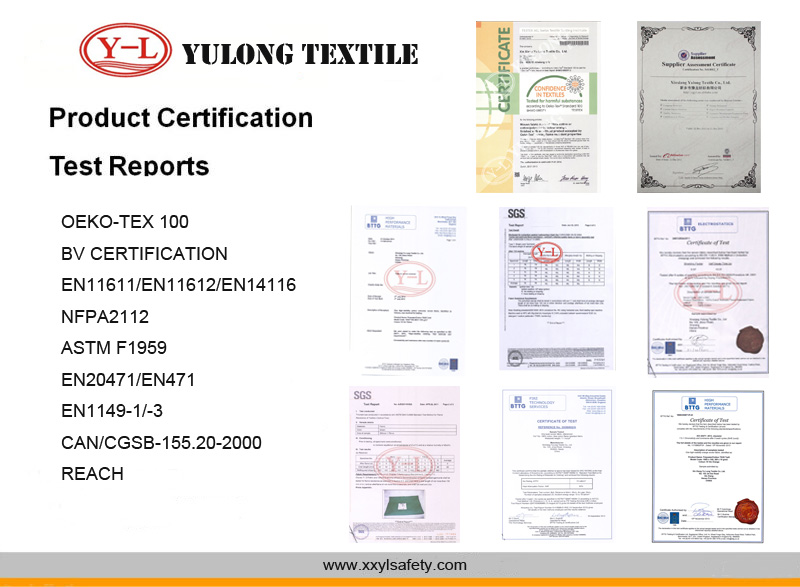 Xinxiang Yulong Textile Co. LTD
Xinxiang yulong textile co., LTD. is a large-scale manufacturing enterprises to provide quality special protective clothingfor the domestic and international electricpower, petrochemical, natural gas, fire protection, forest protection and other industries.The garment factory produces 200,000 suits of flame retardant workwear, polyester/cotton fluorescent clothing and other safety clothes per year, which are exported to Europe and the United States.
Our company's products strictly enforce GB, EN, ASTM and NFPA standards.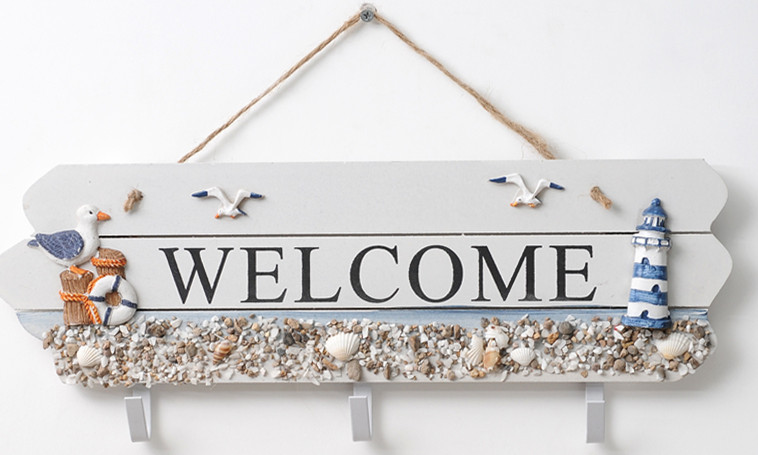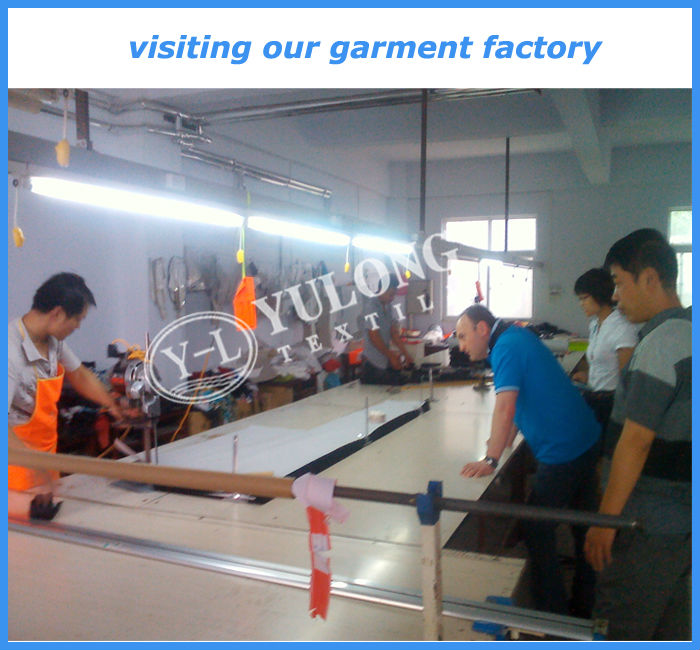 We are waiting for you, my friends, your satisfaction is our highest pursue!
please don't hesitate to tell me if you have any requests:
1, We are the biggest manufacture in North of China that produces safety protective fabrics.
2, we have specializes in producing safety fabrics and clothes more than 10 years.
3, Our products are most popular in domestic and foreign customers, also used by military of UK and Ireland.
4, we all are looking forward to your cooperation, and to a win-win situation.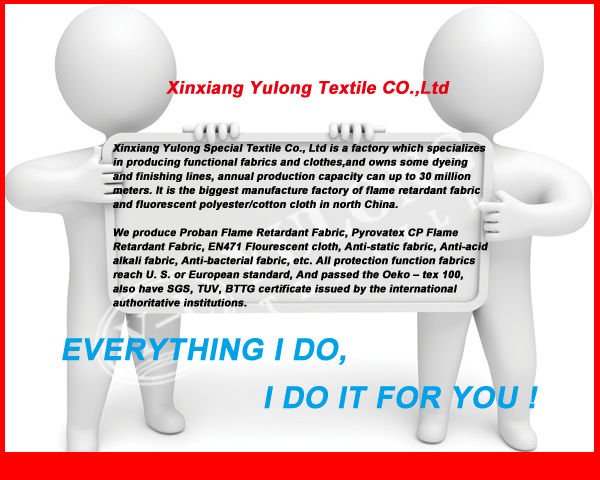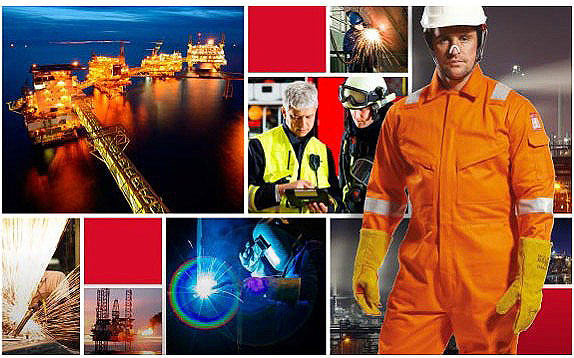 You May Like
Not exactly what you want? 1 request, multiple quotations Get Quotations Now >>
You May Like
Related Searches :
fireunisexsuit firefighter suit size fireproof suit used firefighter suit nomex fire suit nomex firefighting suit fire suit green firefighter suit fire fighting suit